Home Remodeling in Seymour, IN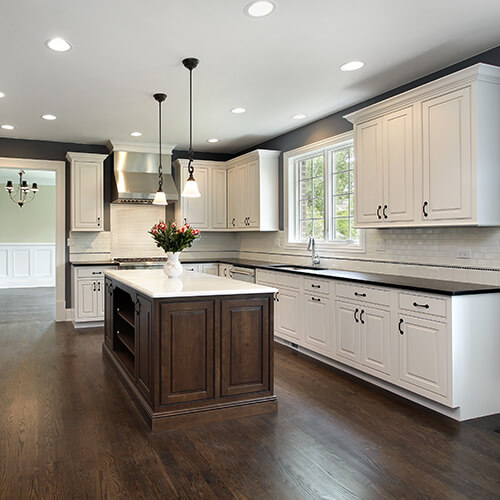 Quality craftsmanship is the foundation of any home—it's what keeps your walls standing and the roofing over your head! When it comes to home remodeling or improvements, make the choice for quality by choosing Rick Graham Construction, LLC's roofing contractors for your project.
Our dedication to craftsmanship spans all projects, from simple interior restorations to improvements. When it comes to your home remodeling projects in Seymour, IN, don't settle for anything less than the finest results.
Remodeling Services
How overdue is your bathroom remodeling project? Have you always wondered what your home would be like after a full kitchen remodeling project? If you look around your home and see opportunities for improvement across entire rooms, it might be time to think about custom remodeling. Contact our team and share your vision—we'll put it on paper and bring it to life. From complete spatial redesigns to luxury improvements to light remodeling upgrades, get ready for transformative results.
Interior Restorations
After years of living in your home, you might find your styles and tastes change. Call us for roofing replacements and other updates that transform your home from what it was into what you want it to be. Our skills as painters, carpenters, masons and more translate to value-add restorations and major improvements you'll enjoy throughout the home.
Ceramic tilework
Drywall repairs
Install flooring
Level/repair flooring
Exterior Restorations
Your home's exterior is the first line of defense against the elements and the first thing anyone sees when they look at your property. Make sure your home is ready to stand tall and beautiful, with exterior restorations and improvements that add beauty, durability, and value. From windows and doors to siding replacements and new decks, our talented team of renovators and deck builders will raise the standard for excellence on your property.
General Construction
Need a new shed built out back? A garage to safely house your vehicle? A new deck? Our reputation as an established home and deck builder in Seymour, IN makes us the best choice for general construction projects. Our construction is rooted in quality and will stand strong to serve you well in whatever capacity you demand of it.
Light Commercial Work
Get your business off the ground, operating in the right environment. From retail to office space, we perform light buildouts and remodeling work for commercial clients throughout Seymour, IN. Tell us what type of space your business needs and we'll make sure it gets it.
Get Custom Remodeling and Repairs
Your home should look and feel the way you want it to. Whether that means home remodeling services, improvements, repairs or new construction, trust Rick Graham Construction, LLC to make it a reality if you're living in Seymour, Hangman Crossing, New Farmington, Fleming, and Rockford, IN. Contact us today at 812-580-0110 to begin discussing the details of your project.